The adoption of an integration platform as a service (iPaaS) has been steadily rising as the need to integrate siloed applications has increased. A popular choice for many businesses has been the Boomi iPaaS platform. Depending on where you are in your iPaaS research, you may be asking 'What is Boomi'?
We'll answer this question in depth as well as take a quick look at what iPaaS is and the options that are currently available on the market.
What is iPaaS?
Before we dive into the Boomi platform, it is important to understand what exactly iPaaS is and the role that it plays in business operations.
iPaaS connects siloed systems and applications to help businesses easily access data and information. We recently conducted a study with IDG that found companies' employees on average accessed 10 different systems or applications each day to find information, complete tasks, or support decisions.
Constantly moving between applications is an extremely inefficient use of time, and frankly a frustrating experience for employees. iPaaS helps to increase efficiencies by connecting all your systems and applications into a single source of truth. Not only does this eliminate silos and provide the organization mass amounts of data, but it also improves security and compliance by implementing changes in a single environment, opposed to 10.
iPaaS Options
The rising need for iPaaS systems has resulted in more competition in the market. For the sake of this blog post, and our experience, we are focused on mid-market providers. The main competitors in the mid-market iPaaS space are currently:
Boomi
MuleSoft
Jitterbit
Snap Logic
We took a closer look at the differences between Boomi and MuleSoft in our blog 'Boomi vs. MuleSoft – Compare Features.'
Another great way to compare the leading iPaaS platforms is through Gartner's Magic Quadrant for Enterprise Integration Platform as a Service. The evaluation criteria focuses on the provider's ability to execute or deliver an iPaaS solution that offers the expected set of functions and each provider's ability to meet emerging requirements.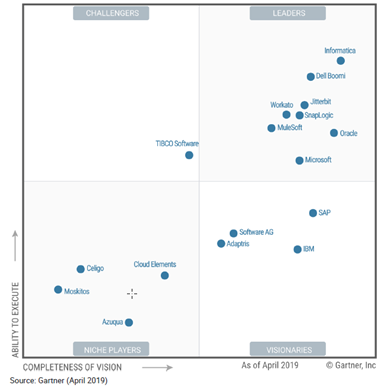 As you can see in the figure above, Boomi is positioned as the market leader based on a strong market understanding as a pioneer in the iPaaS space, as well as its platform versatility. Boomi supports use cases such as ground to ground integration, workflow, IoT and event brokering.
What is Boomi?
Before Dell acquired Boomi, it was a company founded by Rick Nucci in 2000. Boomi originally focused on ways to improve on-prem, middleware appliances for orchestrating EDI & B2B logistics, eventually moving into integration, terming "middleware in the cloud."
In 2010, Dell acquired Boomi to help their customers with their increasing integration challenges due to the sheer amount of systems in use. Boomi has been Dell's fastest growing acquisition as they continue to focus on cloud computing.
The Boomi Platform
The Boomi platform consists of seven elements that we will delve into. These elements include master data hub, integration, data catalog & preparation, B2B/EDI management, API management, flow and connectivity.
Master Data Hub
Boomi's master data hub breaks down data silos and helps to expand data throughout a company. It is used to store and track all the data within different siloed systems to provide easier access for more effective decision making. It allows companies to quickly consolidate data and enforce quality standards organizational-wide to ensure consistency.
Typical usage scenarios include:
Gathering customer data from your CRM and other applications to synchronize
Feeds data into business analytics engines to facilitate analysis, trends, etc.
Integration
Boomi's integration capabilities work to break down data silos and integrate both on-premise and cloud applications, various data sources, and devices. You can connect systems in order to access operational intelligence and tailor templates, processes and scripting to be successful with any connected business use case.
Data Catalog and Preparation
Boomi's recent acquisition of Unifi gives users a new set of tools to break down barriers of operational data silos, making their information more accessible. Boomi's Data Catalog and Preparation (DCP) creates a cooperative AI that adapts based usage to improve business outcomes.
There are four main areas where Boomi's DCP makes operations easier for IT in comparison to individual data management solutions:
Architectural flexibility – microservices architecture simplifies deployment
Total cost of ownership – fewer resources and infrastructure
Security and authorizations – rules and permissions populate across the entire Boomi platform
Scalability – customers can scale up or down as needed
B2B/EDI Management
Boomi's B2B/EDI Management allows companies to effectively integrate with vendors, suppliers, distributors, partners, and marketplaces to achieve end to end supply chain automation. It helps quickly onboard trading partners and scales to support any transactional volume.
Boomi's B2B e-commerce requirements differ from typical applications by:
Validating data against EDI standards
Acknowledges receipt and submissions of documents
Tracks document information for guaranteed delivery
API Management
API Management enables disparate applications to communicate with one another, making applications and data more useful both internally and externally. Boomi's API Management functionality ensures APIs are properly developed, deployed, stored, updated, and controlled. Companies that currently work between new and legacy systems find API Management helpful in getting their data and applications to speak the same language.
Flow
Boomi Flow uses API first architecture to increase flexibility for replacing, improving, and extending application services. It is a cloud native way to create customer journeys by automating workflows to help accelerate business outcomes. Developers can manipulate data and connect endpoints within the API ecosystem.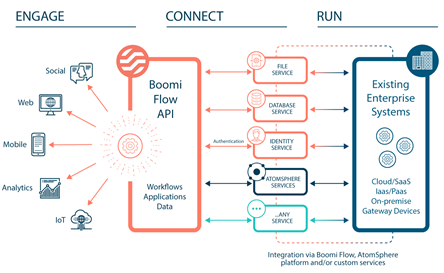 Connectivity
Boomi's SDK Connectors gives companies the option to connect over 1500 technologies to move data quickly. This is the main component that facilitates integration between siloed systems and applications. At VistaVu we often connect customers applications, a few of our most recent integrations include:
SAP
SAGE
Workday
Salesforce
Shopify
For a full list of supported integration (over 1500) click here.
Getting Started
If you are looking to get started with Boomi, you have the option of either going directly to Dell to have your IT team implement and deploy the platform, or you can work with a certified Partner to help with Implementation and Managed Services.
The Boomi Partner program is a great option for enterprises that lack internal resources, or knowledge regarding iPaaS. Managed Service providers give great value at a competitive price compared to hiring in-house developers or spending extended periods of time on projects due to a lack of knowledge.
To learn more about the Boomi Partner Program – read our blog 'Dell Boomi Partners: What You Need To Know,'