What's New in SAP Business ByDesign 2018
SAP Business ByDesign 21.08 is now available! Based on requests from the SAP Customer Influence portal, a platform for customers to submit their requests and ideas for new features and functionality, additional enhancements have been made in the areas of: Active Budget Controls, Intelligent Invoice Scanning, Integration of Digital Payment Add-Ons, Intelligent Robotic Process Automation (iRPA), and more!
Take a look at some of the newest additions below. For a complete listing of all the new features & updates, click here.
Financial Management
Active Budget Control for Public Sector Edition
SAP Business ByDesign now supports Active Budget Control for the public sector edition. You can easily plan and release your budget by Budget Category and check the remaining budget while creating a purchase order or manual supplier invoice.
The following reports are available for Active Budget Control:
Planning Object – Plan/Release/Actual/Forecast
Cost Centers – Plan/Release/Actual – Version Comparison
Financial Plan and Release Version History
Financial Release Details
Integration of Digital Payment Add-on
Using the Digital Payment Add-on integration, you have additional choices while selecting a payment service provider. This integration with SAP Business ByDesign supports customer credit card payments as well as external payments.
The following use cases supported by this integration include:
Registration of credit cards
Authorization of sales orders & manual customer invoices
Settlement run and manually triggered individual settlements
Re-authorization-run to automatically re-authorize expired authorization
Fetching of clearing house statements
Supply Chain Management
Text Items in Production Bill of Materials
You are now able to input products in the production bill of materials without requiring a product ID. Enable the Text Item indicators while adding an input product in the production BoM. In addition, you can provide a description in the Text Item Description.

This feature allows you to provide additional information related to the input products [ie. instructions on how to use the products]. This information is all available in the production model, production request, production order, and production tasks.
Supplier Relationship Management
Intelligent Invoice Scanning
With this new update you can view scanned values along with the reviewed values of uploaded invoice documents in the Invoice Scanning worklist. In addition, you can synchronize master data to match the Supplier or Company during scanning of the uploaded documents.
The number of records for master data synchronization are also available to view in the Master Data Synchronization worklist. The number of records here signifies the delta count for the supplier master data which were uploaded due to changed in the master data after the last synchronized date.
Budget Category & Budget Check for Public Sector Edition
If you have active budget control scoped into your solution, you can now view the budget category in the goods and service receipt. In addition, the budget category is available on the new supplier invoice screen. The budget category supports:
Invoice Item
Credit Memo Item
Subsequent Debit Item
Subsequent Credit Item
Project Management
Until this release, the determination of whether a time recording needed approval was defined by the implementation of the time sheet. Now, this determination is replaced by settings in the project. New time recording settings are available in both project and team member level.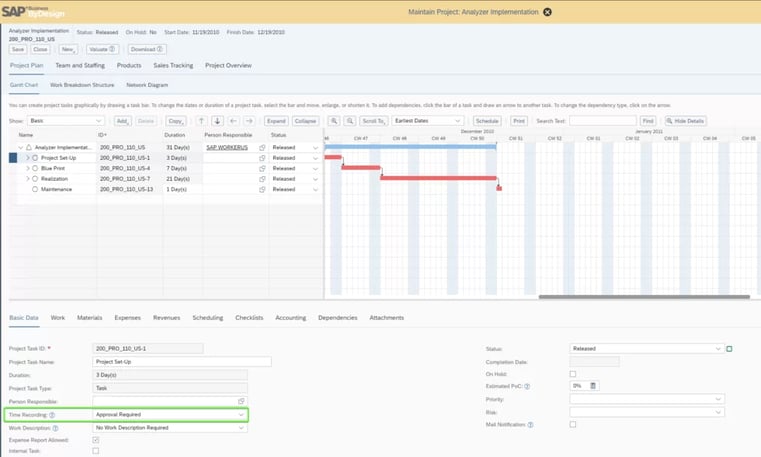 In addition, the following four UIs have been enhanced:
Maintain Project editor
New Project guided activity
Project Template editor (No Team and Staffing tab)
New Template guided activity (No Team and Staffing tab)
Mobile
Mobile users are now able to define custom filters in the worklists in the following work center views: Accounts, Activities, Leads, Services Orders and Service Confirmations. As a key user, you can enable the worklist filters for other users via the Personalization mode or adaptation.
The Supplier Approval has also been integrated into the SAP Managers Approval App. You can now see in the Suppliers category that suppliers that require approval are sorted by requester.
Intelligent Automation for SAP Business ByDesign
SAP Best Practices for Intelligent Automation for SAP Business ByDesign is a set of useful tips and tricks for intelligent robotic process automation (iRPA) and services that allow users to automate most of their time-consuming repetitive tasks.
iRPA enables employees to focus on advanced activities while more basic tasks can be fulfilled by bots. 2 licenses per customer are embedded at no extra cost to build and run your own attended or unattended automation scenarios. You can either build your own processes, or utilize one of 7 templates predesigned by the SAP team which include:
Business Document Extraction from email
Proof of Delivery Note Upload in Outbound Delivery
Schedule Report Refresh
Automated Supplier Invoice Upload
Sales order Creation from Customer Purchase Order
Data Enrichment for Sales Order Creation
Click here for a video explanation on iRPA. If you're interested in setting up iRPA – click here for detailed steps or contact VistaVu Support at vvusupport@vistavusolutions.com.
Do you have an improvement in mind that you don't see on the list? Submit & vote for ideas through the Customer Influence Portal to help determine which features and enhancements will be included in future releases.
If you have any questions on the SAP Business ByDesign 21.08 release features or are looking for ways to better leverage your systems capabilities don't hesitate to reach out to our team.