Take a look at some of the newest additions below.
Relationship Map Enhancements
Reference documents have been added to the relationship map, providing a more comprehensive view of how documents link to business partners, opportunities, sales quotations and more. With this functionality you can easily visualize your reference documents, with the option to hide and unhide documents.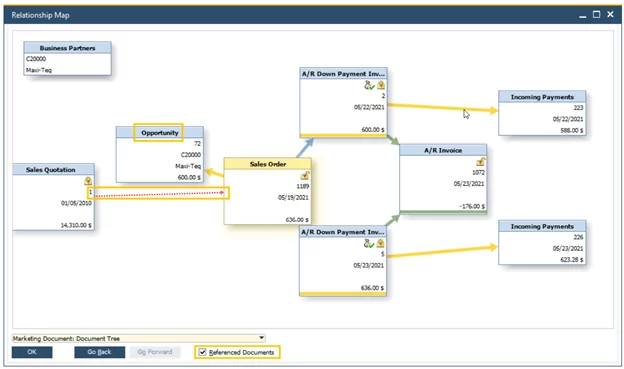 Business Partner Master Data Enhancements
One of the most highly requested items on the customer influence portal was the addition of a new option within General Settings > BP tab that enables you to assign default price lists for customers and vendors. This is meant to be used instead of the price list defined within the assigned Payment terms.
In addition, for business partners managed by "All Currencies", you can set default currency and if needed, exclude the currencies that are not in regular use. When creating marketing documents for these business partners, the default currency is populated and only the included currencies are display in the document.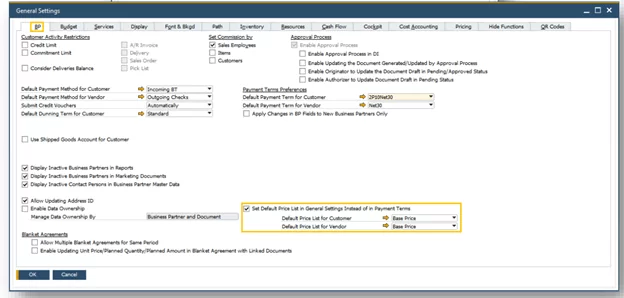 SAP Business One Sales & Service Mobile Apps MS SQL
The SAP Business One Sales Mobile App is designed for busy sales teams on the move and help to manage leads, customer accounts, and stock & order placements.
The Service mobile app helps maintenance technicians provide on-site services for their customers.
These mobile apps for iOS and Android are now both supported on MS SQL. Previously, both apps were supported for SAP HANA databases only. These updates will be released via the Apple AppStore and GooglePlay in July / August of 2021.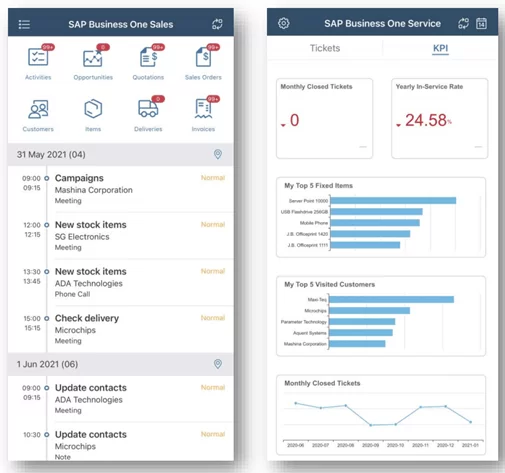 Web Client Enhancement
Significant investment has been made to the Web Client and was a major focus of the 10.0 release, including items such as:
Extended sales support
Support CRM
Integration to Microsoft 365
Web assistant adoption
Web Client | Extended Sales Support
The sales module has been extended to help complete the full sales cycle. You can now view, process, and create Returns, A/R Reserve Invoice, and A/R credit Memos in the web client.
Dedicated tiles are also available to launch the list views and to create new documents through the home page.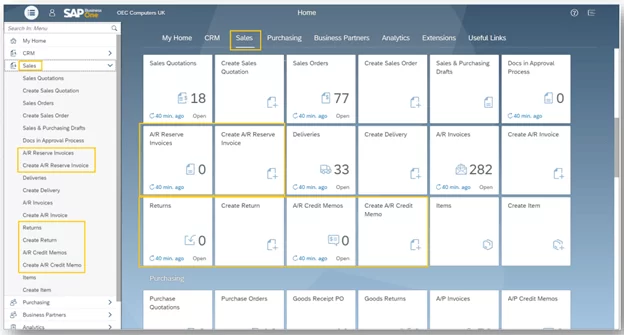 Web Client | Support CRM
A popular request through the portal was a focus on CRM capabilities. The CRM module is now available in the web client, serving as the access point to all CRM-related apps.
The opportunities list view enables you to manage, view, process and create sales and purchasing opportunities and you can now create an opportunity directly from a tile on the home page.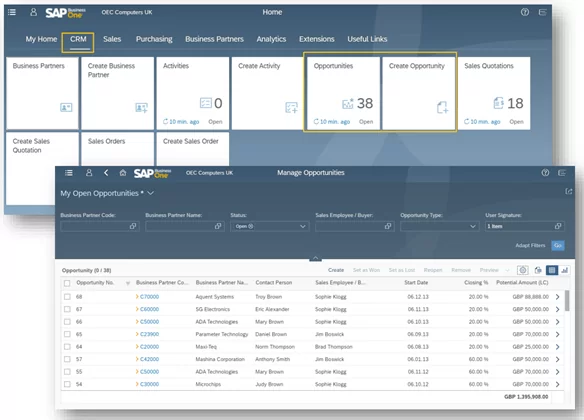 Web Client | Integration to Microsoft 365
With cloud native functionality within the work client, you can export list views and search results to Microsoft OneDrive as Excel files and view them online. In addition, you can export the detailed views of Sales Quotations, Sales Orders, Deliveries, Returns, etc. to Excel using templates like those used in the regular client.
In future releases, SAP plans to support Outlook and additional components.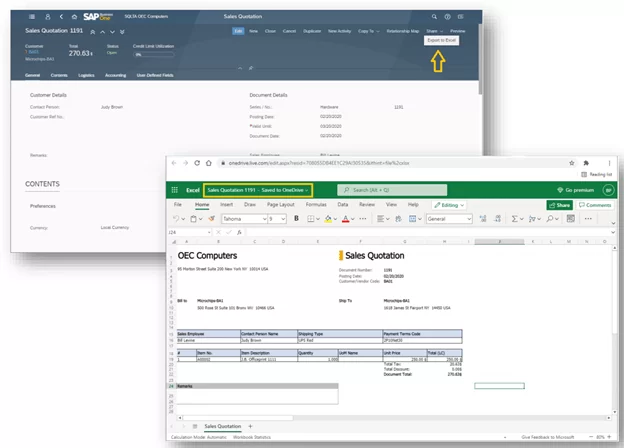 Web Client | Web Assistant Adoption
The Web Assistant provides SAP Business One customers with context-sensitive information while you work. It provides visibility into new functionality and tips and tricks to help you leverage the system. On the help panel you can find:
Context help
Guided tours
What's new
References to relevant section in user guides
Videos
Content is available in all UI languages supported by Business One.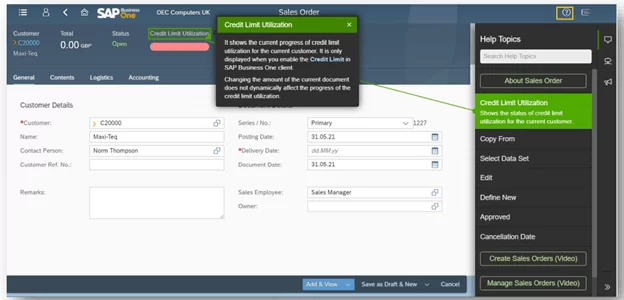 Make sure your voice is heard! As an SAP Business One customer, your ideas and votes through the Customer Influence Portal help to determine which features and enhancements will be included in future releases. In Q1 of 2021, the Business One Customer Influence Portal received over 650 votes from customers, resulting in 32 new requests being delivered by the SAP team
Click here to submit your ideas & vote on current submissions within the portal.
If you have any questions on the release features or are looking for ways to better leverage your systems capabilities don't hesitate to reach out to our team.