Are you tired of having to manually report mundane tasks? Setting up supply chain-related runs in
SAP Business ByDesign
removes the need of having to manually perform tasks such as supply planning, releasing proposals (purchase, production, and stock transfer), bundling purchase requests, and creating and releasing production orders, to name a few.
In this blogpost, we'll demonstrate how to create and schedule a Planning Run. See our subsequent blog posts on how to create different runs.
To create a planning run in ByDesign complete the following steps.
Go to the ByDesign Supply Planning work center, Automated Actions, Planning Run: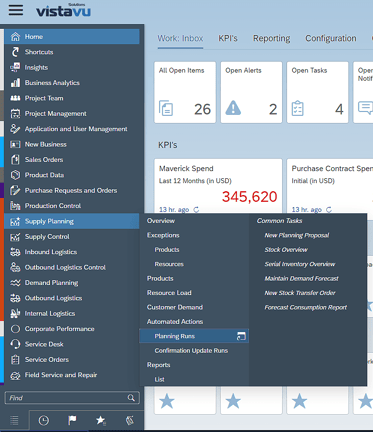 Click New to create a new run: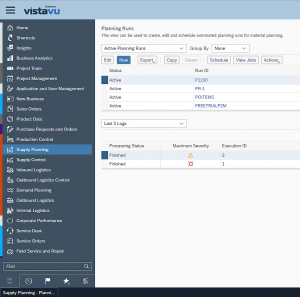 Enter a RUN ID. Depending on what type of run this will be – location, planning group, or product – you could name it based on the type. For example, name the run the same as the planning area/location that the run is for.
Enter a Description of the Run.
Decide which control parameters should be checked: delete all Planning Proposals that are not firm (recommended as the subsequent runs will generate new proposals to replace old ones that weren't firmed and/or released)
Allow planning proposals Creation in the past (these planning proposals will have the required need date which could be in the past if this box is ticked)
Re-Explode Firm Planning Proposals (recommended in case of any BOM changes, etc.)
Run Multi-Level Planning (recommended).
Decided which Selection Criteria is to be planned.

If you want to create a run by location/planning area and include all products, then click on Planning Area, select Add Row, Include, Equal To, and enter the Planning Area ID in the Planning Area ID From box.

If you want to have the run by location, but want to restrict certain products, you can go to the product tab, add row, select exclude and enter the Product ID(s) to exclude. Alternatively, if you just want a few products within the location, you can add a row and select include and input the Product ID(s) to be planned, ByDesign will support either.
You can also create a run for just Products or just Planning Groups without locations by entering data into just each of those tabs. There are many combinations available.
In the Net Change tab of the Selection Criteria section, select the Consider Net Change checkbox if you want that the planning run only plans for products that have undergone a planning-relevant change since the last planning run.
NOTE: In SAP Business ByDesign you can have multiple planning runs. One for each location, for example. This is very common.
Once you've entered all the criteria into your plan, Click Save.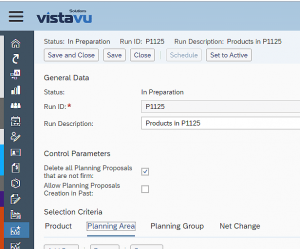 To make the plan active, click Set to Active.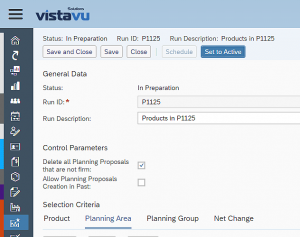 Click Schedule to have the system automatically perform the run (note that Schedule will be greyed out until the run is Set to Active).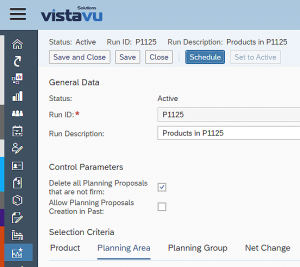 Choose one of the following options as required:
Choose Start Immediately to run the job immediately.
Choose Run After Job and select a job. The job will then run immediately after the job you specify here (a forecast run, for example).
Choose Single Run to define a date and time for the run.
If you want to run the job at regular time intervals, choose Recurrence and choose a recurrence for the run. For example: daily, weekly, or monthly.
NOTE: We recommend that in ByDesign you do not schedule jobs in shorter intervals than one hour. In most cases, once a day should be enough. Since you may experience performance and locking issues if you schedule your runs for times when the system load is high, we also recommend that you schedule your jobs to run at night.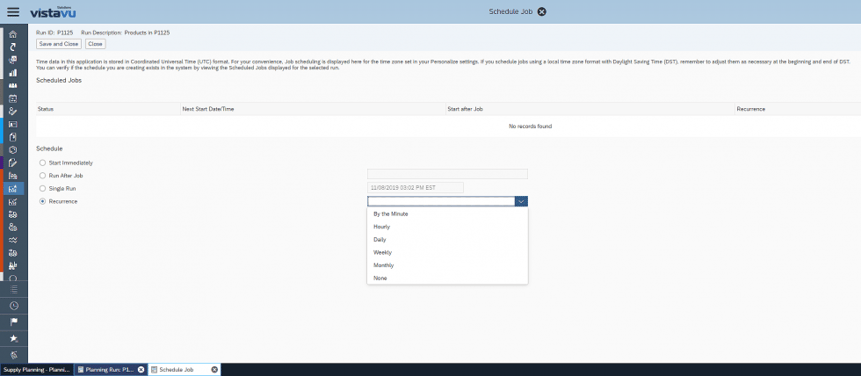 After you've made your scheduling decisions, Click Save & Close. In this example, the system will now run planning every day at 6:00am EST

Stay tuned for future posts on how to create different runs.
For more helpful articles for SAP Business ByDesign like this visit our Resources page.