Integration in SAP Business ByDesign
Third Party Logistics partners are becoming more mainstream in today's world. SAP Business ByDesign's Third Party Logistics (3PL) integration functionality enables SAP to be directly connected to an external warehouse management system of a third-party logistics provider. In this scenario, SAP Business ByDesign handles purchasing, sales, and fulfillment processes including invoicing, but warehouse execution and logistics are outsourced. Communication is done via B2B interfaces (following UN/EDIFACT standard).
The setup for 3PL has been split into a 2-part series. This 'How To' blog will show you how to do the following:
Part 1: (posted today)
Scope 3PL in Business Configuration
Create a Warehouse Provider (Supplier)
Create a 3PL Site in the Organization Structure
Setup the 3PL site as a Location
Part 2: (posted December 19)
Create a Transport Lane
Create Logistics Models
Create Document Numbering Formats
Create a Communication Arrangement
Part One of Two
Step 1: Scope Third-Party Logistics in Business Configuration
Go to Business Configuration -> Implementation Projects. Click on an existing project and select Edit Project Scope (note: if there isn't an existing open project, a new project will have to be created):
Click Next until you get to Step 3: Scoping. Expand Supply Chain Setup Management, select Execution Design -> Third-Party Logistics, and tick the box to enable this functionality:
Click Next to go to Step 4: Questions. Expand Supply Chain Setup Management, select Execution Design -> Third-Party Logistics and confirm the scope elements for B2B communications with the 3PL (if there will be an automated integration) or print Third-Party Logistics requests (if there will be manual communication between ByD and the 3PL)
Click Next to go to Step 5: Review and click Finish
Click Finish to save changes
Click Close to exit Scoping
Step 3: Create the Third-Party Logistics Provider as a Supplier
Click on the Supplier Base Work Center -> Common Tasks-> New Supplier: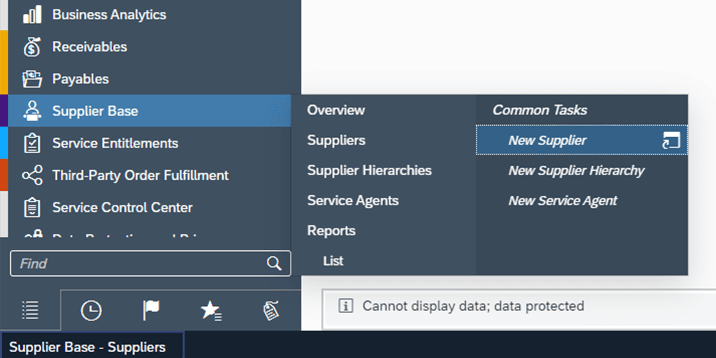 Enter in all the Warehouse Provider's data on General tab. Tick the box for Warehouse Provider and Freight Forwarder. Ensure the Global Location Number or D-U-N-S is populated (see Additional Identifiers hyperlink for these fields):
Go to the Communication tab, click on the Collaboration sub-tab. Select XML as the Third-Party Logistics Outbound Request: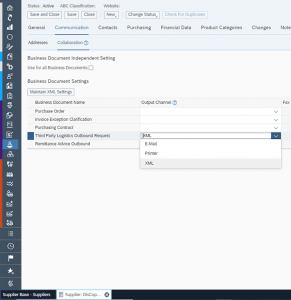 XML Settings for automated communication with the 3PL will be configured in a later step.
Click Save and Close.
Step 3 Create 3PL Business Residence in the Organization Structure
To be able to manage inventory initiate warehouse tasks for the 3PL, it must be set up as a Business Residence/Site.
Go to Organizational Management -> Org Structures In the Org Structures view, click Edit, or click the Edit Org Structures common task.
On the dialog box that appears, specify the effective-from date for your proposed changes and choose OK. Note that all elements in the org structure are time dependent. Caution: When editing an active org structure, enter the date from which you want your changes to take effect before you start to edit.
Modify date and/or ensure default date is acceptable:
Create your new org unit. To add an org unit in your existing org structure, place your cursor on the intended root org unit and click New. Then click Org Unit:
Complete all relevant tabs for the org unit in the structure.
Note: You can check the consistency of your org structure at any time, as described in step 5 below. Regular checks help you to eliminate inconsistencies on an ongoing basis, rather than being faced with many messages related to inconsistencies when you have finished making your changes.
To read the rest of this helpful how-to guide, Click here to download PDF document in its entirety.