Third Party Logistics (3PL) partners are becoming more mainstream in today's world. SAP Business ByDesign's Third Party Logistics (3PL) integration functionality enables SAP to be directly connected to an external warehouse management system of a third-party logistics provider. In this scenario, SAP Business ByDesign handles purchasing, sales, and fulfillment processes including invoicing, but warehouse execution and logistics are outsourced. Communication is done via B2B interfaces (following UN/EDIFACT standard).
The setup for 3PL has been split into a 2-part series. This 'How To' blog will show you how to do the following:
Scope 3PL in Business Configuration
Create a Warehouse Provider (Supplier)
Create a 3PL Site in the Organization Structure
Setup the 3PL site as a Location
Part 2:
Create a Transport Lane
Create Logistics Models
Create Document Numbering Formats
Create a Communication Arrangement
Part Two of Two
Create a Transport Lane for the New Org Unit in ByDesign
The transport lane defines how products are to be moved between the site and a destination or between 2 sites of the same company. For example, you may determine that only customers in the East can receive products from your 3PL, while customers in the West can only receive products from a west coast warehouse. The transport lane and zone combination will be used in determining the default ship from location when creating sales orders or stock transfer orders.
In ByDesign Go to Supply Chain Design Master Data -> Transport Lanes:

Click New:

Create a name for the Transport Lane, then click on the window to select the appropriate site as the Ship-From Site ID (in our case our new org unit, 2200):

Next select GLOBAL_TZ as the Transport Zone ID. GLOBAL_TZ is the default transportation zone where all customers in all regions can receive the products defined in the transportation Lane
Under Allowed Products, click the Add Row button:

From the drop-down menu, select which product type fits the products for this site to transport:

After you've selected your product choice, click Change Status and select Activate: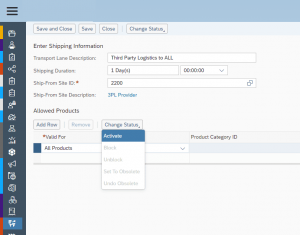 Click Save
Activate the transport lane by selecting 'Activate' under Change Status at the Header Level: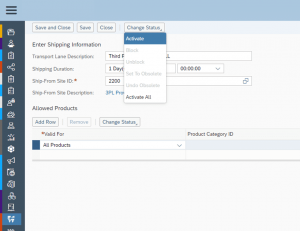 Then click Save & Close: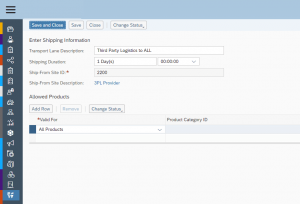 Note: Once Allowed Products are Activated on the Transport Lane, they cannot be deleted, only Obsoleted or Blocked. This operation can be undone, if there are situations where you need to periodically change the products or product categories which can be delivered from a site.
Click 'Refresh' on the Transport Lane screen to see the new transport lane that was just created:
To read the rest of this helpful how-to guide for 3PL in SAP Business ByDesign, Click here to download PDF document in its entirety.